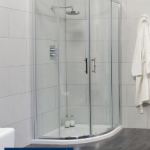 The 800 x 800 shower enclosure is one of the most popular sizes people ask for and as such, there is a wide selection to choose from. Therefore, this can sometimes become confusing for the customer when the conversation turns to what kind of 800 shower enclosure they want.
Questions like 'do you want an 800 x 800 Corner Entry shower enclosure' or an '800 x 800 shower enclosure Pivot'? Perhaps a 'Quadrant shower enclosure 800 x 800'? If like many people you do not fully understand the differences between the enclosures the following post should help explain. Indeed, you may already know what kind of shower enclosure you want but are looking and comparing different makes and models.
Kyra Range 800 Corner Entry Shower Enclosure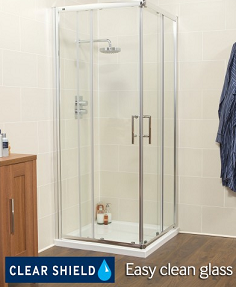 With a height of 1900mm, glass thickness of 6mm and a Lifetime Guarantee, this popular contemporary style 800 corner entry enclosure offers excellent value.
Each shower enclosure in this range has ClearShield glass coating which is a protective coating applied to the glass. Its repellent properties help prevent the build-up of lime scale dirt and soap deposits making the glass easy to clean.
The push down bottom rollers are also hugely popular as it makes cleaning the shower door very easy and accessible.
Cello 800 Quadrant Shower Enclosure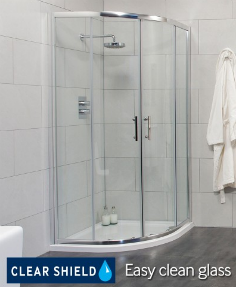 The Cello 800 enclosure represents great value in the Quadrant range. With a price of £139.00 it matches up against any of its competitors. Like the Kyra, this Quadrant has a glass thickness of 6mm, Clear Shield Easy Clean Glass, adjustable wall profiles, stylish chrome door handle and a Lifetime guarantee.
Not many shower doors on the market offer a lifetime guarantee but Bath and Shower do and they stand over their quality, both in terms of style and manufacture.
If you are a little worried about your shower measurements a 25mm extension profile is available if required with this 800 contemporary Quadrant.
Cello 800 Pivot Shower Enclosure with Side Panel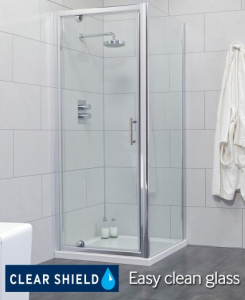 The 800 Pivot shower enclosure is also a favourite with many people. With its beautiful stylish contemporary design it is great value at £189.00. With a pivot door remember to measure or beware of the space available in your bathroom as the shower door will open out.
The last thing you want is to install the door only to realise that when the door opens up there is not sufficient room to manoeuvre, or worse still, the door collides with something when its opens. Believe me it is a common mistake.
The Cello 800 pivot also comes with impressive features much like Kyra 800 and 800 Quadrant. It is the same height as the Quadrant at 1850mm as well as 6mm glass thickness. Made of glass and aluminium with a magnetic door closure, this 800 pivot enclosure also comes with a Lifetime guarantee and a 25mm extension profile is available if required.