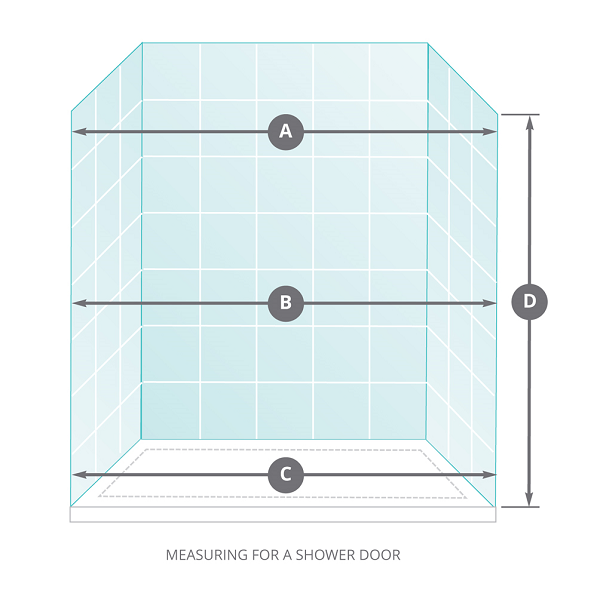 Finding a shower door that fits, can be a daunting task as there are many things to consider. Is it a new build, are you replacing an existing shower door, are you revamping an old bathroom? All these scenarios have different elements to be considered when considering what size shower door to go for.
Below is some handy advice. Rest assured with our wide range of shower doors, including our unique off standard shower door range we will have a door that fits.
Measure Your Opening
First things first, always measure twice for accuracy. Follow these steps to determine the measurements for your shower door:
• Measure the Width: take 3 measurements, the top middle and bottom, A, B and C. If the measurements differ, choose the widest. All of our doors have adjustments built in to fit your opening.
• Measure the Height: Measure from the top of the shower tray to the maximum height you wish your door to reach (D). Some people are limited by height in which case an 1850mm height shower screen will suffice, others with the space would like a higher door of 1900 or 1950mm.
New Build
If the door is going into a new build you probably have more leeway with the size of your shower door.  Choose a door and tray that match, example a Kyra 1300mm Sliding Shower Door will fit on a 1300 (51 inch) rectangle shower tray. It also adjusts to between 1260mm and 1320mm (47inches to 52 inches) if the widths are different.  Or a Kyra Range 900 Bifold Shower Door (Adjustment 860mm (34inches) to 920mm (36inches)) fits on a 900 shower tray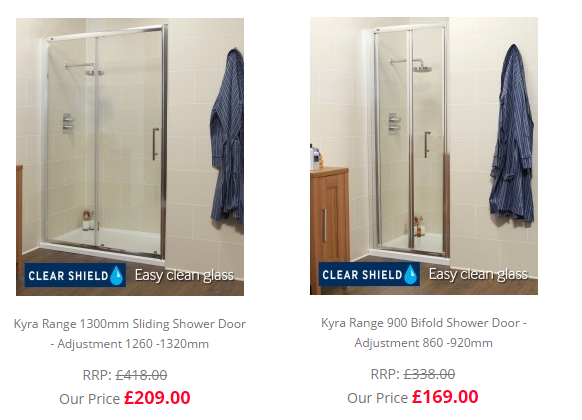 Replacement Shower Door
With a replacement shower door you may need to source on off standard size door, or mid size to fit the pre-existing tray, if the walls have been tiled already and the recess is now less than the size of the tray. To find a door to suit check the adjustment of the door on offer.   For example our Cello 800 Corner Entry Door can suit a shower door opening of between 765mm and 790mm (30 inches to 31 inches)
Often the standard sizes offered by most retailers still won't do the job which is why we stock a range of mid size doors. The mid sizes are usually suitable as a replacement door when the original tray is being left in situ but the opening has reduced due to tiling over tiles etc
Examples
Kyra Range 850 Bifold Shower Door - Which Has an Adjustment of 800mm to 860mm (31.5 inches to 34 inches )
Kyra Range 950 Bifold Shower Door - Which Has an Adjustment of 900 to 960mm      (35.4 inches to 38 inches) 
Kyra Range 1050 Sliding Shower Door - Which Has an Adjustment of 1000mm to 1060mm (39.4 inches to 42 inches)
Kyra Range 1150 Sliding Shower Door - Which Has an Adjustment of 1100mm to 1160mm (43 inches to 45.6 inches)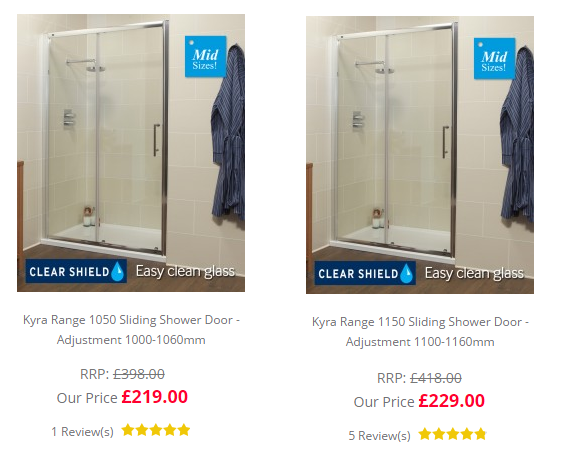 Whatever the size you can be sure we have a shower door to fit.