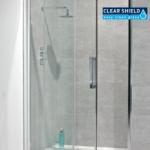 Choosing the right shower door for your bathroom can sometimes be an intimidating experience. You decide to visit a showroom and there are numerous shapes and sizes on display. The sales assistant starts talking to you about Pivot doors and enclosures, Bifold, Hinge and Sliding doors. They ask you is your shower a Quadrant or an Offset Quadrant.
You may have a little confused look on your face at this point. Then there are the various sizes on offer, anything from a 760 Hinge shower door to a 1200x900 Offset Quadrant. At this point it is probably good to know the right size shower door that you're looking for. Knowing the right measurements will make it easier for you when choosing the correct shower door for your Bathroom.
Choosing the right shower door for your Bathroom
To help you understand a little better before you visit that bathroom showroom or buy online, below is a short description on the different types of bathroom doors available.

Bifold shower doors
These fold back onto itself as per the diagram shown, meaning that no space is taken up when trying to open the door.
Hinge shower door
These types of doors have two hinges, at the top and bottom, and like any normal door it opens out. It is important to remember that if you decide to choose a Hinge door that your bathroom space allows it.
Pivot shower door
The door also opens up with the Pivot but where the pivot sits there is only a small amount of swing space taken up, thus making these a popular type.
Sliding shower door
As the name suggests, the door slides on rollers in a smooth action, thus taking up no space with swinging outward doors. When measuring this type of shower you only have to consider where the tray will be fitted and not any extra.
Good quality shower enclosure
There are other details to consider such as Quadrant, Offset Quadrant Shower Enclosures and Corner Entry enclosures and will continue that in our next post so stay tuned!