Welcoming a guest into your home can be a stressful affair. It usually involves tidying, cleaning, feeding and entertaining - so although it's lovely to have visitors, they're often hard work. And given that the bathroom is a room they're guaranteed to use during their stay with you, you'll definitely have to ensure that this space is sorted properly. So whether it's their own en-suite, or getting the main bathroom guest-ready, here are our top tips for making sure your guest bathroom stands out for all the right reasons.
Make sure your bathroom is clean. Really clean. Things that might not bother you - the odd stray hair stuck to a tile as you're having your morning shower - might turn your guest's stomach. Someone else's bathroom mess is always way worse than when it's your own. So make sure that you give your bathroom a good deep clean and that it's gleaming on time for your visitors. That includes the floor, walls, taps, basin, shower, bath and of course the toilet.
Make sure your guest has their own supply of clean and fluffy towels. Give them the nicest ones you have. If your visitor is going to be using the main bathroom, place the towels in their bedroom. If they have their own en-suite, fold them neatly on your shelf/chair or leave them neatly on your towel rail.
Stock up on products. You don't want your guest to feel like they're being a nuisance if they happen to forget their own toiletries. Keep a spare (obviously new!) toothbrush and a tube of toothpaste at the handbasin. Make sure there's plenty of hand soap and keep nice, good quality shampoo, shower gel and conditioner in the shower.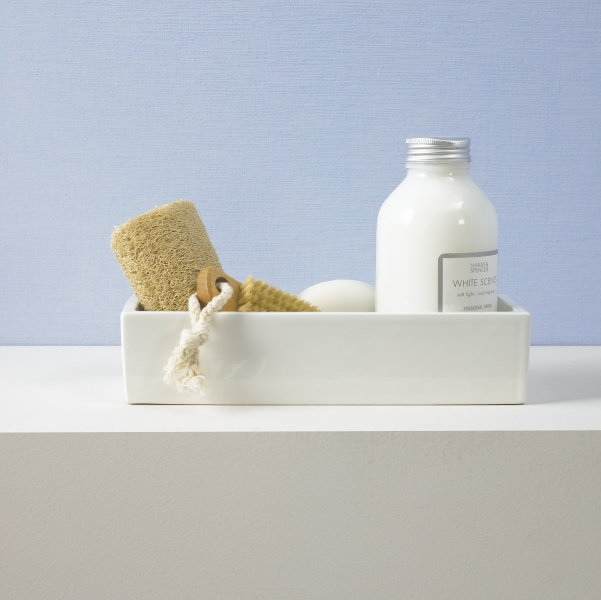 Clean facecloths or a new shower pouff add a nice touch. You could have a little basket of bits on display that your guest is free to help themselves with. It always makes a bathroom look nicer and more sophisticated too.
De-clutter. There's no need for the half empty bottle of moisturiser that's been in your vanity unit for the past three years. If it hasn't been used in the past six months, get rid of it. Bin any rubbish - old razors, almost empty shampoo bottles that, let's face it, no one is ever going to bother trying to empty. Get rid of anything that's not essential or that's not likely to be used. Choose your products based on your needs and their quality so that you actually end up using them as opposed to accumulating junk.

Have a plant. Whether it's a cactus or a nice orchid, some greenery in the bathroom adds freshness and a homely feel to the room.
A clean toilet brush, some handy wipes or and make sure there are cleaning products available. You want your guest to not be worrying about leaving any embarrassing remnants of anything in the bathroom so keep a nice bundle of cleaning products to hand so that they can freshen up the facilities when they're finished, if necessary. A nice scented candle in the bathroom is decorative and functional. Or you could leave a bottle of Fabreze or similar.
Always have plenty of spare toilet paper to hand so that there's no danger of them running out. We love this Bergen Free Standing Bathroom Butler (currently on sale for £219) for keeping the more practical things looking sleek and stylish too.