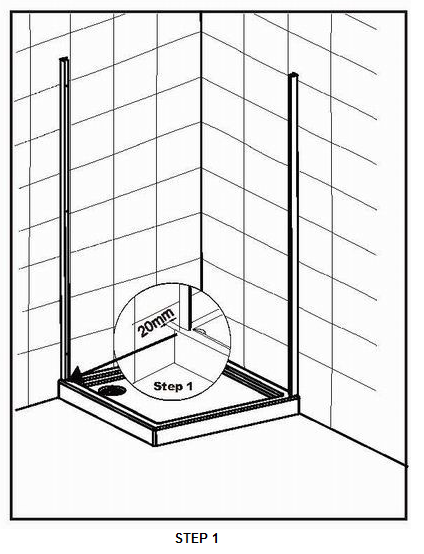 Usually the fitting of a shower door or enclosure is best left to a professional plumber  however if you wish to attempt it yourself below are some steps to follow.
First things first
Always check your shower enclosure as soon as possible after delivery and make sure
there are no damages or faults.  Take a look at the tools list below and make sure you have all the tools you need before starting. Ensure the shower tray is installed perfectly level in all directions against a solid structural wall
Tools Required
Power Drill
Tape Measure
Screwdriver
Pencil/marker
Quality silicone sealant and applicator
Spirit Level with horizontal and vertical level indicators
Hints and Tips
Make sure surfaces to be siliconed are free of grease
Look out for any hidden pipes or cables in the wall before drilling
If drilling ceramic tiles use a piece of marking tape on the tile to keep the drill bit from slipping
There are many types of shower enclosures, corner entry, sliding, bifold etc. the instructions below are for a square corner entry shower door sitting on a shower tray.
HOW TO FIT A SHOWER DOOR - STEP BY STEP GUIDE
 STEP 1
Place the wall profile 20mm from the edge of the tray. The wall profiles must be fixed absolutely vertical and a spirit level or plumb line should be used.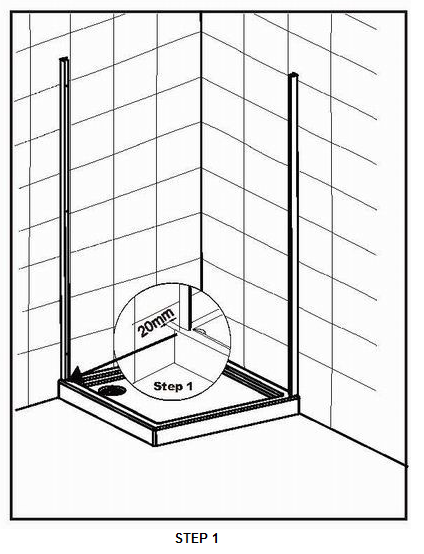 STEP 2
Mark the position for fixing the wall profile to the wall.

STEP 3
Drill hole and insert the wall plug. Drill 3 equally spaced holes through the wall profile.
repeat twice for both wall profiles.
STEP 4
Fix the wall profile to the wall with screws provided.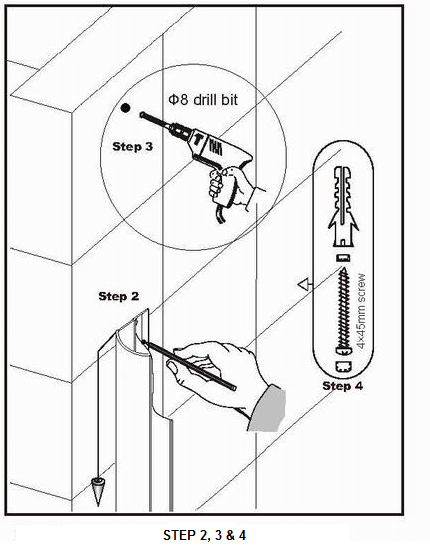 STEP 5
Place the assembled frame onto the tray and slot into the wall profiles.
STEP 6
Insert corner joint into the roller channel. Repeat for bottom roller channel.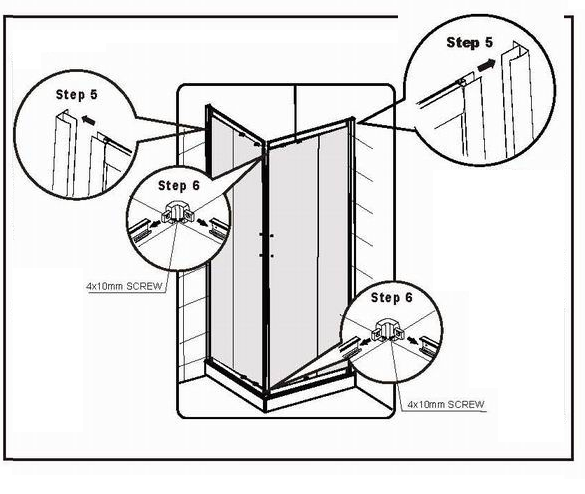 STEP 7 & 8
Drill 3 equally spaced holes (with appropriate drill bit - see manufacturers instructions) through the wall profile and frame and fix with appropriate screws (according to manufacturers instructions)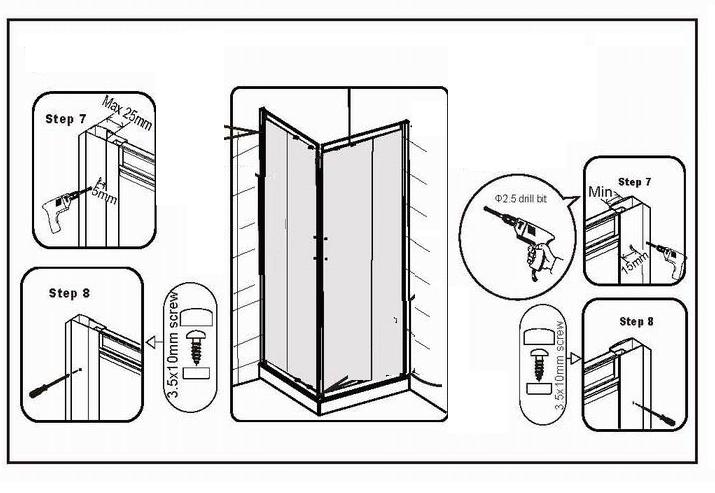 STEP 9
Carefully push the seals onto the glass edges
To ensure the correct door rolling action and closing between the magnetic strips, the top rollers can be adjusted by loosening the screw as shown. Rotating the clear disc and re-tightening.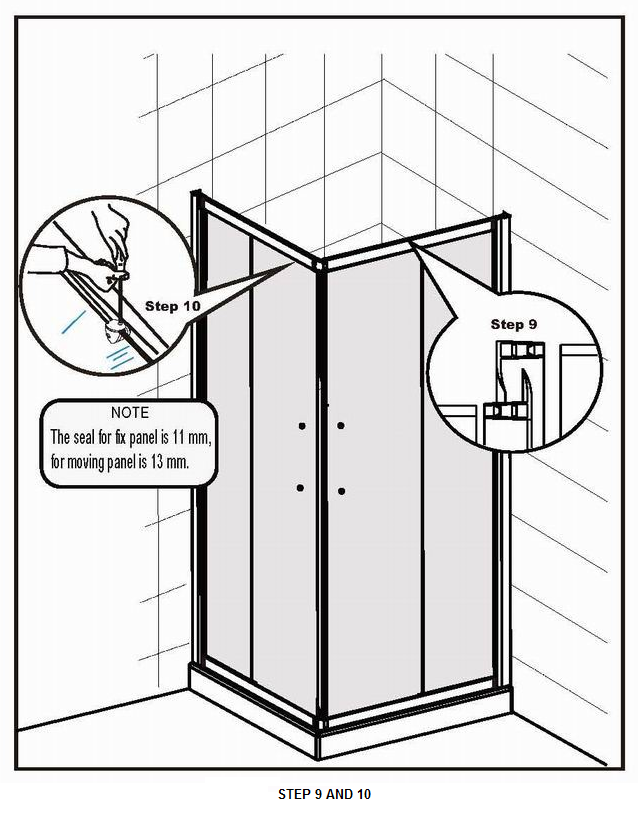 STEP 11
Fix the handle to the outside of the doors
STEP 12 (relevant to our KYRA Range of Shower door)
Place the 2 frame cover caps on the upright profiles and wall profiles.
STEP 13
Use a quality silicone sealant and applicator gun to seal the finished door. Please apply silicone sealant to the outside only.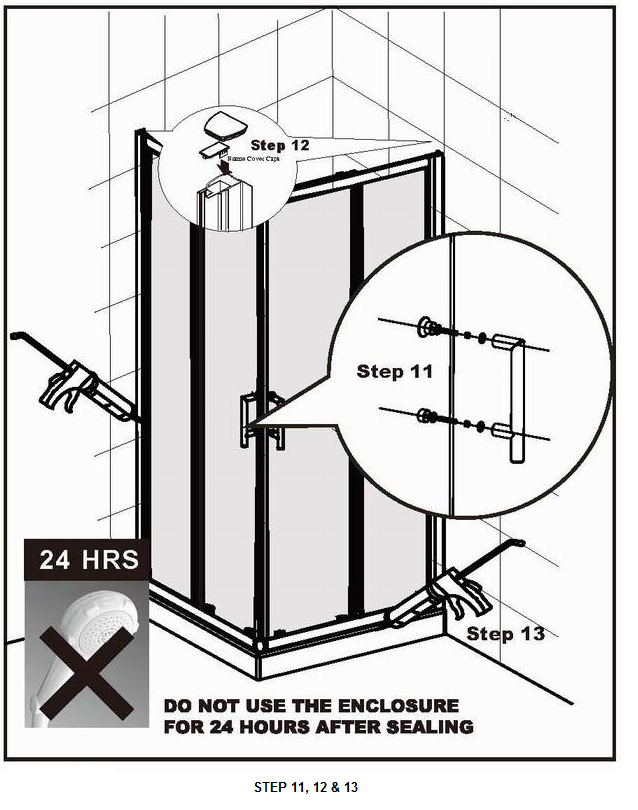 NOTE:  These instructions are a guide only and some measurements are relevant to out Kyra range of doors, always refer to the manufacturers fitting instructions and where possible employ a professional fitter