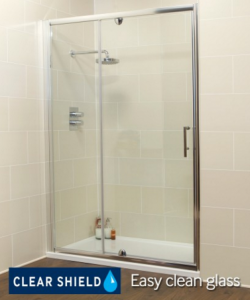 With quite a large selection of shower door styles available, a popular question we get asked is "what is a pivot shower door?" A pivot shower door is sometimes also known as a 'one panel swinging door' that opens outward and are installed in a stand alone shower area.
Why are pivot doors so popular? They afford easy access because the shower door itself can be constructed to open from the left or right depending sometimes on where the basin and toilet are situated. Because pivot shower doors are so popular there are also many different sizes and price ranges to choose from.
Pivot Shower Door 800mm
With the Kyra and Cello pivot shower door ranges for example, both come with a lifetime guarantee which of course proves very popular with customers. Prices differ depending on your enclosure space. For example with the Kyra 760 Pivot Shower Door the retail price is £149 whereas the Cello 900 Pivot Shower Door will cost you £129. Both of these models come with a lifetime guarantee, adjustable wall profiles, 6mm safety Toughened Glass and made with Clear Shield Easy Clean Coating Glass, among other features.
Will a Pivot Shower Door fit?
How do I know if my shower tray will fit your range of pivot doors? This is a common question of course and one we are always glad to answer. All the Bath and Shower doors will fit universal shower trays, importantly though it is essential that you order the correct size to fit your space. If you are unsure how to do this, just ask your installer to measure out your shower door space for you and all our sizes, measurements and adjustments are shown for each shower door we supply.