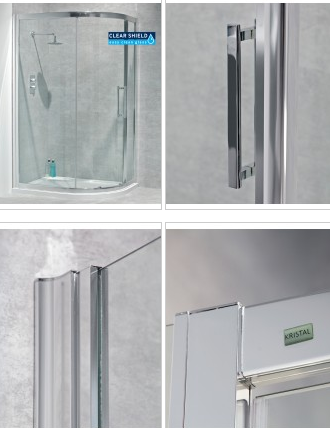 When it comes to shower enclosures in the UK and some of the terminology, it can sometimes be quite daunting. For example people talk about Quadrant and Offset Quadrant shower enclosures and what is the difference?
The basic difference between the two is the measurement size. Offset Quadrant and Quadrant shower enclosures are used in the corner of your bathroom and are based on the curved glass measurements.
Let's look at this a little closer. For example, the Avante 8mm 900 Quadrant Shower Door has equal width measurements of 900mm, whereas the Avante 8mm 1000x800 Offset Quadrant Door measures 1000mm x 800mm along the sides before it curves. The great thing with the Bath and Shower range is that all the shower doors and enclosures are universal, meaning even if you have your own existing tray, the shower doors or enclosures will fit.
They also come with a lifetime guarantee which is a huge relief to many people as you don't expect to change your shower door or enclosures too often. If cleaning is an issue, and to be honest with many shower doors it can be, they come with push down bottom rollers for easy cleaning as well as with Clearshield glass coating which acts as a protective coating.
Types of Shower Enclosures in the UK
There is also of course the Corner Entry shower enclosure which has always received great reviews over the years proving to be one of the most popular shower enclosures in the UK. As per the name, this type of enclosure fits into the corner of your bathroom with a sliding door for easy entry, taking up no extra room with doors opening up etc. As with many of the other models there are different sizes to suit almost any bathroom, such as the Cello 760 Corner Entry Shower Enclosure up to the Rival Range 900.